SEX WORKER SUPPORT (MUKTA)
JPSDP's sex worker support program is the largest project in the organization. It was introduced and initially funded by Pathfinder International, a Boston-based funding agency. JPSDP's program is part of a larger effort called the Mukta project. Led by Pathfinder International, Mukta, meaning freedom in Hindi, aims at empowering sex workers to fight stigma and take responsibility for their own lives. Mukta was intricately designed to offer a strong web of support systems. At the moment, the project has evolved and the responsibility has now been transferred to the Maharasthra State AIDS Control Society (MSACS). The project focuses on three sex worker typologies, all of which are present in Pune.
Street-based Sex Workers operate mostly from "hot spots" around the city. These are specific areas where many sex workers can be found and where many clients go to purchase services.
Private-based Sex Workers mostly operate from their homes or meet at the client's house. They are often disguised as cleaning ladies to maintain the secrecy of their services. They are a hidden population, mostly undercover.
Brother-based Sex Workers work under the management of a brothel leader (or manager). They mostly reside in the red-light district of the city and live together with other sex workers.
A large majority of the sex workers practice without their family knowing about their profession. Thus, JPSDP's team is a vital support system.
Outreach Workers and Counselors
Outreach Workers (ORWs) and counselors are an important link in the Mukta Project's web of support. They go into the field many times per week to check-in with every sex worker individually. The ORWs and the Counselors are trained social workers who provide one-on-one counseling to each sex worker. They are each assigned a specific site that they regularly visit. Either they meet them in their homes or at their work spot. During their field visits, they distribute condoms so that all the sex workers receive as many free condoms as they need. Counselors and ORWs provide support to sex workers who might have suffered abuse or who just received an HIV diagnosis, for instance. In addition to frequent visits to the field, JPSDP also has drop-in centers where sex workers can find ORWs and counselors.
Peer Educators
The Peer Educators are at the forefront of JPSDP's work. Each Peer Educator oversees 60 sex workers with whom s/he develops a strong relationship. The Peer Educators live in the same neighborhood as their assigned sex workers, which makes them available for support at all times. Although they keep track of sex worker complaints and condom use, the Peer Educators also serve to mobilize their community. They represent their sex worker community and bring them together in self-help groups, for instance. Self-help groups are small groups of 20 sex workers who meet regularly. They are an important source of empowerment. In case any of the sex workers in the group has a problem, the entire group will support her in finding the solution.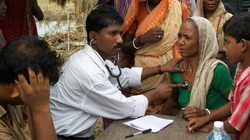 Clinic: JPSDP has a free clinic open every day for members of the sex worker community. Although it is situated in the Red Light District of the city, the clinic is open to all sex workers. The doctor is there daily for regular check-ups and referrals for treatment and testing.
Health Camps: Health Camps are daily clinics that are set-up in the field at a given site. The purpose of these health camps, otherwise called "mobile clinics", is to bring the doctors to the patients rather than vice-versa. Often, sex workers cannot make their check-ups because the clinic is too far or because they cannot leave their children alone. The health camps make check-ups accessible to all.
Community-Based Organizations
CBOs are a central part of the Mukta Project model. CBO stands for Community-Based Organization. This phase of the project serves to ensure continuity and sustainability. The entire structure of the project, distribution of condoms, support groups, health check-ups, setting up of bank accounts, is passed on to the sex workers themselves. Elections have taken place to elect the CBO board members. Each site elects a set number of representatives who then present themselves for elections against the other representatives from other sites. The Board of the CBO is in charge of putting together the organization and recruiting members.